Every year Maxant Honey Equipment Company strives to increase the quality of its products and lower the costs and pass the savings along to customers by offering specials in pricing.
The company also endeavors to support all the thousands of machines manufactured through four decades past with technical advice and replacement parts.
We are thankful for William T. Maxant's vision to form a company five decades ago that concentrated solely on the machinery to process the millions of pounds of honey that are produced every year by beekeepers large and small.
Maxant is the #1 Choice
The Kitchen Daily reported June 6, 2010 Maxant to be the White House's extractor of choice. And Google trusts none other than Maxant for their annual Honey Harvest.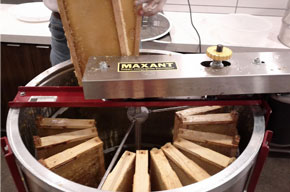 Left: 2010 — the White House using Maxant products. Right: Google uses Maxant products.

Left: Jake bottling with our new Stainless Steel No Drip Valve. Right: Our 9 Frame Extractors in production.